GRAEME REVELL, founder of SPK; soundtrack composer
Graeme Revell was born in New Zealand Oct 23, 1955. He graduated from The University of Auckland with degrees in economics and politics. A classically trained pianist and French horn player, he worked as a regional planner in Australia and Indonesia and as an orderly in an Australian psychiatric hospital.

Graeme Revell was a founder of SPK [Surgical Penis Klinik; Sozialistisches Patienten Kollektiv; System Planning Korporation], a 70's Industrial Music group, for which he produced SPK videos; sang, played keyboards and percussion. Their single "In Flagrante Delicto" formed the basis for his first movie soundtrack, Dead Calm, which won an Australian Film Institute award. Since then he's composed almost a hundred soundtracks, including The Crow, The Hand that Rocks the Cradle, The Craft, The Basketball Diaries, Chinese Box, and Sin City. He also composed for CSI: Miami.

A rare book collector, futurist, and tireless researcher into the dark side of the human psyche, Graeme Revell/SPK has been featured in the RE/Search #1-2-3 tabloids, the Industrial Culture Handbook, RE /Search #8/9: J.G. Ballard, and most recently J.G. Ballard Conversations, RE/Search's newest book. Over the past 23 years Mr. Revell has interviewed J.G. Ballard several times for RE/Search.
&nbsp
MARK PAULINE, founder of SURVIVAL RESEARCH LABORATORIES
Around 1978 Mark Pauline, an Eckerd College, Florida graduate and First Generation Punk Rock Original (he went to school with Exene Cervenka, founder of X; Exene's sister Muriel; Pee-Wee Herman aka Paul Reubens; and Punk Filmmaker Gordon Stevenson) moved to San Francisco. The abandoned factories of the South of Market area, filled with rusting machinery, inspired Mr. Pauline, an experienced welder and metal fabricator, to create an Art based on the recycling of industrial technology. He incorporated a knowledge of Futurism: the first Art Movement to extoll the beauty of speed, machines, and war; and Dada/Surrealism, which championed the Absurd, Black Humor, the Imagination and the Dream. Mr. Pauline has cited Raymond Roussel's two books, Impressions of Africa and Locus Solus, as being particularly inspiring. Almost singlehandedly a new darkly humorous and savage "Art Genre" was created: MACHINE PERFORMANCE ART. Beyond creating mere "Art Machines," Mr. Pauline deployed a kind of multi-dimensional "Maximalist" spirit, generating as many metaphors and surprises as possible, while always probing the boundaries of "freedom." Authoritarian/totalitarian conventions and cliches are frequently lampooned in shows bearing titles such as "A Bitter Message of Hopeless Grief." Tolerances of the Human Body are musingly tested with smoke, fluids, loud explosions, rocket launchings, fiery blasts, acrid smells and other phenomena, while one-of-a-kind Menacing Machine personalities express themselves to the limits of their arcane functioning. State-of-the-art technological innovations involving tele-robotics and computers are incorporated into the continually evolving show productions, described as modern-day Hieronymus Bosch landscapes. Many highly-skilled and unique artists/scientists are drawn to collaborate in the realization of SRL projects.

The best Art is by nature prophetic, and the Machine Art Performances of Survival Research Laboratories poetically illustrate the psychopathological possibilities latent in modern technological innovation and heavy industry fabrication. Every dream, after all, deserves its nightmare. Fusing Art, Technology and a kind of Burroughsian/Ballardian sensibility, SRL creates trail-blazing, uncompromising, fabulist Art which will impact far into the future. And Mark Pauline has long been a J.G. Ballard fan, visiting the visionary author and interviewing him in the 1980s. His interview appears for the first time in J.G. Ballard Conversations. Mr. Pauline/SRL has also been featured in Search & Destroy #11, the RE/Search #1-2-3 tabloids, the Industrial Culture Handbook, and Pranks.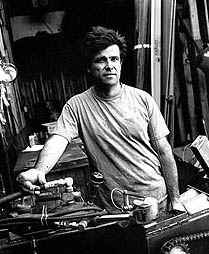 &nbsp
J.G. BALLARD
Born in Shanghai November 15, 1930, James Graham Ballard spent several formative years in a Japanese concentration camp before settling in England in 1946. After RAF flight training and medical studies with the aim of becoming a psychoanalyst, Ballard concentrated on inventing the genre of Speculative Fiction, charting the myths and psychopathologies of the near future. His autobiographical novel Empire of the Sun was made into a feature film by Steven Spielberg; David Cronenberg filmed his techno-noir-sex classic CRASH.

To date Ballard has written 17 prophetic/poetic novels; in his newest, Millennium People (2003), random acts of terrorism dynamically unsettle London, England (sound familiar?). The Complete Short Stories of J.G. Ballard, recently released, is almost 1200 pages and an instant classic.

J.G. Ballard has been featured in Search & Destroy #10, the RE/Search #1-2-3 tabloids, RE/Search #8/9: J.G. Ballard, and the RE/Search illustrated edition of The Atrocity Exhibition. RE/Search is proud that its (2) newest publications are J.G. BALLARD QUOTES; and J.G. BALLARD CONVERSATIONS, featuring interviews conducted by MARK PAULINE (Survival Research Laboratories) and GRAEME REVELL (SPK; composer), both present tonight Sept 10, 2005, at the Hayes Valley Market, San Francisco.